A day at Stanley Park ...
Bodyclock well set now. Was woken by the sound of announcements from a bike/running event happening outside. Caught up on email and set out for downtown Vancouver on perfect summers day. Perhaps this pic will set the scene - Stanley Park is the oasis of green forest on the peninsula just above the city: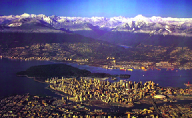 It is truly special - 1,000 hectares of Pacific Northwest forest, mainly red cedars, Douglas firs and hemlocks, set aside for the people of Vancouver over 100 years ago, and literally bordering the city. And I mean - how could I NOT go to a park with a name like that?? :)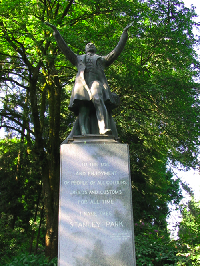 Lord Stanley was the Governor in 1888...
It was chokka - seemed like thousands of Vancunians were out for the day - picknicking, rollerblading, biking, jogging, walking, strolling, or just chilling out - there is a 10k bike/blade/walkay right round the edge of the park, with heaps of trail through the forest. I walked a bit on the South side, then made my way round and back into the city for the
Hydrogen and Fuel Cells Trade Show
. I have seen the future of technology!, and it is already here (but not evenly distributed :). Jess and Kate will be driving a car like this
when they are in their 20s - can you imagine a car that runs on a cheap, infinitely available fuel with zero emissions (except for a bit of water)??!! It also produces electricity - so when it's parked in the garage you plug it into the national grid and contribute to the power supply. Goodbye NZ power shortage! And never mind the missing weapons of mass destruction - why does Mr Bush need oil when the fossil fuel age is over?? (guess the
Carlyle group
can answer that question :)
Anyway, as well as cars we will also all have our personal fuel generators which basically run on water - so goodbye noisy diesel or huge power bills from Mercury HydroPowerEnergy!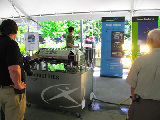 I also got to ride on a fuel-cell powered bus - zero emissions, runs on hydrogen, and is aready in service in Germany and Spain. Quite extraordinary!!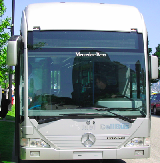 had lunch on the Westin Bayshore Marina just next to the tradeshow - a toasted sandwich with an energy drink. Mands - this camera takes restaurant eavesdropping to the next level! - this is a snatch of the fascinating conversation between two charming young ladies - one French, the other of Asian origin, both communicating in their shared second language English. Iisten for the delightful French accent!
Then back to Stanley Park for the rest of the afternoon, and into the early evening. Must have shot about 50 fotos and still have space for another 50 on the FlashMemory card. There are way too many to put here - think I will compose an afternoon in Stanley Park foto-essay, and link to it in a later blog. Still have to work out a good way to do this.... One highlight though was the totem poles where I spent about an hour: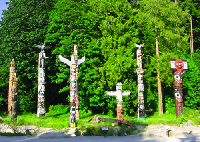 Had seen an advert for a vegetarian restaurant in one of the very informative local publications, so I bussed back up to Kitsilanto looking for the
Naam Restaurant
- a 24hr eating house that serves the most delicious food. It was packed so I went off for a beer round the corner, and it was still full when I got back, so I waited about 20 min, but it was worth it. Was really starving after walking about 15kms during the day but the Buddha's Feast (check the menu on the link :) settled me. Got back at about 11.30pm having caught the last bus to UBC (relief - it would have been another 10k walk! )