Day 20 - Edinburgh/Nottingham
A day trip through the English countryside .... side roads included :)
Said goodbye to Kendi and Hayley as they went off to school: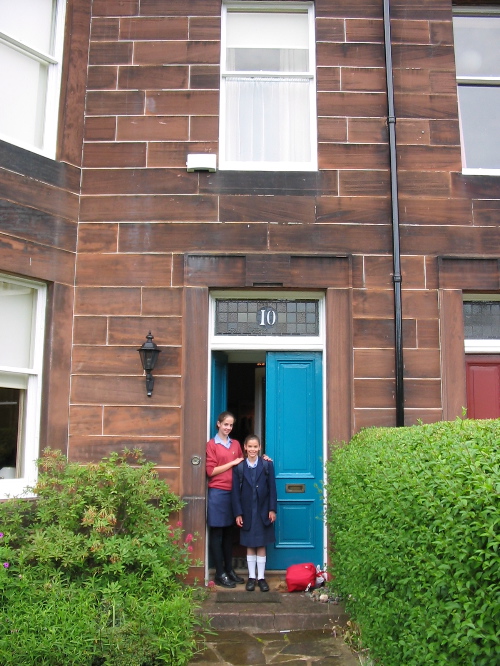 looking jolly posh what!!
and then Daz took me to the car hire place. I was somewhat nervous, given my previous experience with car hire in Edinburgh (Mandia and Martene will recall the rickety old car that nearly packed up on us in the wilds of Scotland 20 yrs ago!) - but all was fine, modern, reliable - AND I got a free upgrade! because the 2-door hatchback I had ordered wasn't available. SO I set off in a 4-door Vauxhall 1.6l automatic for the Lake District. I sure have experienced all possible modes of transport on this trip! (not a bicycle yet though). Didn't take long to adjust to UK driving conditions and soon was cruising through the countryside (glorious, the Wordsworthian 'glory and freshness of a dream').
The really neat thing about driving with a digital camera is that you can just point and shoot interesting shots along the way without stopping or taking your eyes off the road - just a short glance at the screen and click! Here are some wind turbines for electricity generation near Carlisle: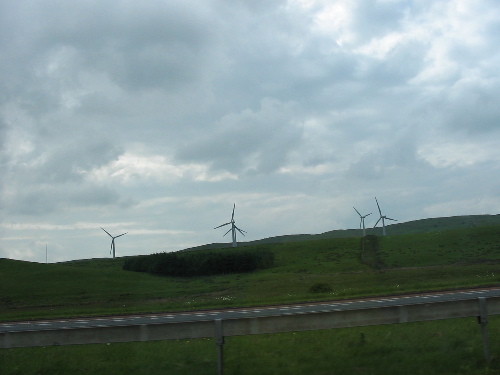 I wanted to retrace some of the journey that Mandia and I made in our campervan in 1983, so made for Keswick where we had spent an eventful 2 days which started with me nearly driving the camper into the lake and having to be winched out by the most amused campground owner's tractor! The main purpose though was to visit Castlerigg again - the stone circle where in a way it all started for me - my growing understanding of what my name really means, and the electrical tingling in my fingers as they brush the stones as I walked and then ran in circles round the ancient stones .....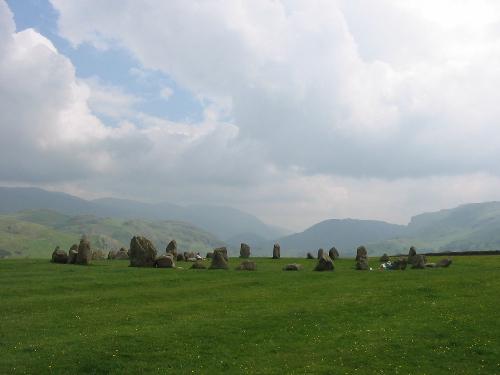 as you can see it is still there, although this time there were hordes of tourists and I just couldnt get a picture without a human in. But I decided not to use digital technology to edit them out, since I would have also loved to spend an afternoon parking off against a stone, reading, sleeping, looking up, wondering ......
but I had to be in Nottingham by 8pm to check into my accommodation at the staff club, and reluctantly moved on - whereupon I soon found out that the UK motorways were not at all like they were in 1983 or even 1990 when we did that trip with Jess (and Martene and Ryk) - VERY congested around the Manchester/Liverpool area, and then major detours when I eventually got onto the M1 to Notts - but managed to make it in time to this very traditional old university where I am settled in the old building (feels haunted!) alone with all the facilities at my disposal (the actual room is somewhat spartan - although I have had worse, and hey - its only £25 a night).
Went over my seminar again (getting quite polished now!), checked email (with some difficulty but eventually hacked in through the phone line), called home, and got some sleep.
Posted: Wed - June 18, 2003 at 11:40 PM
Stan's Travel Blog