Day 6 - Melbourne
First day at CSHE, University of Melbourne
Had a good sleep but didn't go for a jog this morning. I wanted to orientate myself to the day ahead - read through my notes from Queensland and prepare for the day's meetings. This part of the trip is a bit more loosely organised, but as it turned out the day went really well. I was due to meet the Director of the Centre for the Study of Higher Education (CSHE) Prof Craig McInnis at 11.30, and caught a tram at about 9.30 so I had plenty of time. The no.16 tram goes straight to the uni from outside the hotel which is very convenient. These Melbourne trams are amazing - you can cover the whole city and they run on time. No transport problems here! (Remember we took the train from Brighton into the city, but I dont think we used the trams then ....
On the way, at one of the stops in the city, I heard a busker doing an excellent version of the Beatles "Come Together" - now if I'd had my digicam or digi recorder I would have sampled it and inserted into this blog post so you could have heard it. Think I must get the camera with this feature :)
Jess - you can't post to this particular blog yet - but I have seen blogs which allow interaction and I will see if it's possible with iBlog software - so much to learn .... but you are right onto it!
So I was made very welcome by Craig and had a good hour with him. I've always been a bit envious of CSHE because they are real academics located within a faculty, but also do the same kind of work as us. Anyway he was interested in our Certificate which they are also proposing, so there was mutual interaction. Then off to lunch at the staff club - very posh!! - with Gay Baldwin who I had met when she was a candidate for the CPD director job last year. She has also just done a recommendation for the uni's platform (they are proposing open source over WebCT which is very interesting - but I guess I should leave those details for conversation and official reports :). Later I met with Ric Canale who heads the multimedia development unit - a whole army of designers, programmers, video producers, all beavering away on Mac G4s with cinema displays - grreeen with envy:)
Made my way back to St Kilda at about 4pm, but decided to stroll through the city to Flinders St station instead of getting on the tram straight away. So just soaked up the people, shops, atmosphere - you will remember the bustle of Melbourne - just so cosmopolitan and vibey. Ended up at the new Federation Centre next to the station which wasnt built yet when we were here. It is the most amazing architecture - very futuristic, like being inside a huge crystal lattice.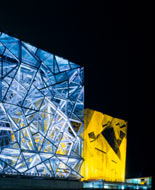 There is a major new art gallery so I checked out the Aboriginal artists on display there - especially the work of Albert Namatjira who painted the most stunning landscapes...
There is also an entire new gallery devoted to the art of the moving image - ACMI - imagine a whole art gallery with just movies .... wish I had more time to see it all. Sipped a quiet beer on the piazza watching the sunset over the South Bank, and hordes of Meburnians heading home in the rush hour. Felt like a small unit of consciousness in the midst of an infinite network of other units, absorbing the cities of the world ..... Caught the tram back to St Kilda - just a quiet night tonight - maybe take a stroll later and get a bit of dinner at one of the about 60 restaurants in this street alone!
Posted: Tue - June 3, 2003 at 07:14 PM
Stan's Travel Blog