Day 19 - Edinburgh
on show again - Centre for Teaching Learning and Assessment at the University of Edinburgh
This part of the trip was probably the least well organised in advance - but only because my contact there Ray Land had taken up a new post at the University of Coventry (sent to Coventry?). He had left me though in the very capable hands of Mary McCullough who had set up a some meetings and a seminar for me. All went fine - there were 7 people there from different depts connected with e-learning, and we had a jolly good discussion after my presentation - the whole session was about 2hrs. Then went with Mary and her colleague Hamish to a posh French restaurant in the Old Town. I was just struck, as I had been on my first visit there 20 yrs ago, by the sense of history the permeates the place as one walks along the cobbled streets with the beautiful old buildings, cathedrals, and castles .... The lunch was pleasant and relaxed conversation - I was very grateful to Mary for organising it all on top of every else she probably had to do - so when we got back I said my thank yous and goodbyes and wandered through the old city for a couple of hours.....

Daz and Kendi picked me up in town on their way back from Kendi's sports day, where she won the 80m and came 2nd in the high jump. When Pete got home we climbed into his beamer! ....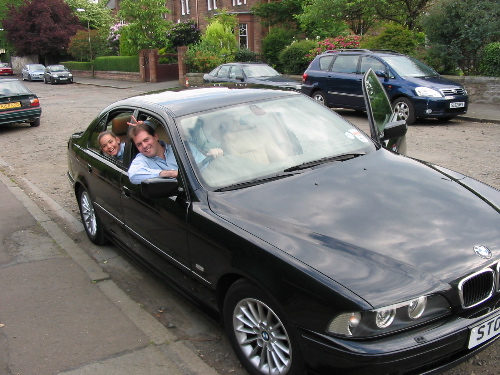 and went out for a pub supper in an old castle-like building overlooking the Firth of Forth - I had a traditional fish & chips (on top of the French restaurant lunch - it was the most I had eaten in one day since the start of the trip). I showed some iPhotos from my computer when we got back - so I think Pete is now seriously under pressure from his older daughter to get her an iBook!
Planned the next stage of my trip - I had deliberately left this uncertain so I could explore all the options when I was there, and decided that a car would be the most convenient and give me the flexibility that I wanted. So I found a car hire in Edinburgh that would accommodate a one-way rental for a reaonable fee, and decided to leave for Nottingham early the next day and take a slight detour through the nothern tip of the Lake District.
Posted: Wed - June 18, 2003 at 11:13 PM
Stan's Travel Blog