Got to sleep late - did some flicking through the 65! TV channels I have in my room (Kate, this is TV bliss - anything you want - new Charmed, old and new Friends, 5 music channels, about 10 different CSIs, Columbo! and goodness know how many ads! - anyway I have connected with
Adbusters
who are headquartered here in Vancouver, so watch out for some culturejamming when i get back :)
woke at 8am and went for what I thought would be a short jog around the campus. This place is so huge however that I was still jogging an hour later! - found my way back past a major Saturday morning basketball tourney on the campus -think of Onewa domain on Thursday netball, times 2, and add rap music blaring out all around. Quite cool.
Well, then I finally got to a camera shop. Did a bit of scouting on the web first, and then checked different models, specs, comparisons. Digital cameras are evolving rapidly and there is just a bewildering variety of options. Settled on a shop which also sells Macs, with Hugh Masekala playing in the background 'Key to knowledge" and a very charming young salesman who gently prodded out my plastic, which I handed over in exchange for the Canon Powershot A20 (a good saving on the NZ price when I eventually get the Canadian GST back which I have to claim when I leave). It's actually a neat camera with video mode, and manual overrides so you can play with settings etc like on a traditional SLR. Be neat for Jess when you do photography next year :)
So here is my first picture! - of Gringotts Bank which is just Diagonally over the road from the camera shop in Kitsilanto (Ypsilanti?!):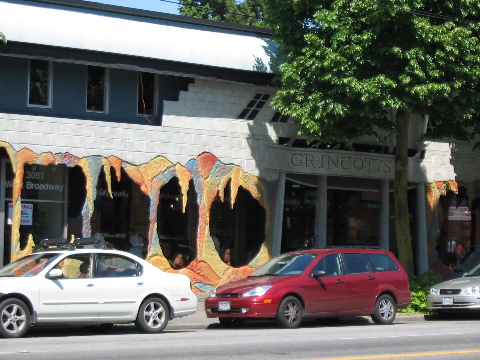 Harry is only arriving on June 21st so I guess I will catch up with him when I visit Hogwarts for my elearning seminar with Dumbledore on the next leg of my trip.
Further up the road I came across this delightful tea shop: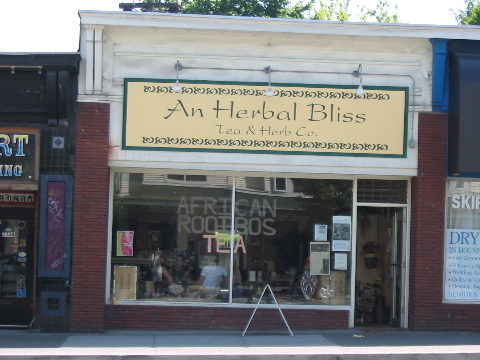 but didn't go in for a cuppa as I wanted to get back to check out the features of my new toy :), do some laundry (I mean, I am SO domesticated :), and then after supper (a rather stodgy vege burger at the only place open on campus - it's a bit dead because the campus is not fully operational during the long summer break). There is another conference on the go but I dont feel up to connecting with the
Thomas Merton Society
- although I do feel like a bit of monk in my cell up on the 8th floor, all alone ... hope it livens up during our conference next week!
I also connected with
eLearningBC
- who I had come across while still in NZ. So, I will be attending their AGM on Tuesday as a special guest! in my persona as the CEO of Flexilearn. A really excellent opportunity to see at first hand how innovative elearning companies in BC are linking together and doing business.
Finished my laundry, watched the sunset on the Georgia Straight, updated blog. Tired now - am going to Stanley Park tomorrow to explore the rainforest and then catch the hydrogen fuel cell exhibition later.