syncing the body clock, seeing a new city ...
had an uninterrupted sleep for about 7 hrs. Trying to sync the body clock quickly into a new circadian rhythm - sleep in the night, dont sleep if you're tired in the day, get plenty of light, eat at usual times even if you don't feel hungry. I think it is working - my first meeting today was with Gary Poole - Director of the Centre for Teaching and Academic Growth (TAG). I had met him last year in Perth, and then also when he came to Auckland after that for a short holiday en route back to Canada. A nice guy - he is organising the STLHE conference that I'm attending next week so was a bit hectic, but he gave me a good hour and then a brief tour of the campus. He has just co-authored a book with Tony Bates on effective teaching with technology (not published yet) so we had a good discussion. (re the body clock thing - Gary remarked on how well and energetic I seemed after the rigours of time zone and hemisphere changes...
Then a meeting with Michelle Lamberson who is head of the Office of Learning Technolgies. She is very enthusiastic, and knowledgeable, being an academic who also worked for WebCT for 3 years. WebCT was developed here at UBC and is used by some 28,000 students daily! There are all sorts of issues though with coordination, integration, reliability etc - I am beginning to see patterns emerging around e-learning as I move further into the visit. It really is an amazing academic experience and I hope that can integrate everything into a coherent report. The bottom line though is resources - Auckland just cant compete with the levels of funding that these other unis have (or could I suppose if budget priorities were refocused) ... but I'm not getting carried away now :)
It was then 3pm and I decided to hop on a bus and go look for a digital camera. Buses are only way to get into the city if you dont have a car, but they are regular and relatively cheap (although it does seem an expensive city if you convert to NZ dollars, so I'm rebudgeting this bit. I have to buy food every day until the conference starts - but am saving on accommodation compared to hotel and motel rates). Anyway I found myself in downtown Vancouver after about a 30 min bus ride, and just started walking. I didnt have very long, so after checking the map thought I'd make my to the Chinatown part of the city - I had a vision of huge markets of cheap digital appliances fresh from Asia that you could bargain for. Boy- was I ever wrong! I had to walk through the rough part of the city to get there - was offered everything from crack to a good time by really shady characters, and had to fight off hordes of homeless people begging for small change - OK, not really fight off, but was quite struck by encounters with the homeless, which we dont see in NZ and the Australian cities. When I got to Chinatown it was a disappointment from the digital camera point of view - many little shops selling all kinds of Chinese goodies bit not a digital camera in sight!
Vancouver is historically a city with strong links to East Asia - it is quite close geographically after all - but also a really cosmopolitan place. There is the French influence (Canada's other official language is French), but also Greek, Spanish, Indian, etc. I heard about 7 different languages on the bus alone. I wandered back on another street that bypassed the seedy quarter and ended up in Gastown which is a charming shopping precint on cobbled streets with all sort of niche boutiques, coffee shops, and right next to the Waterfront which is like Cape Town but on a bigger scale and with absolutely stunning views across the harbour to the mountains.
Had a banana, some nuts, and an Isobe herbal drink with guarana, ginseng and echinacea to fortify energy levels and the immune system. I am feeling remarkably well, and just so lucky to be able to see all of this. Canada is a very different place - it is kind of like America (the people sound American), the cars look American (and drive on the right hand side of the road so I have to really watch myself crossing the road! - it is so easy to just look right and walk if you see nothing coming - meanwhile the traffic comes at you from the left!), but underneath the Americaness is another feel, almost Europe, more laidback, friendly. Difficult to describe after only a day but I like the feel and tone of the place.
Here is a picture from the net to give you an idea - tomorrow will hopefully start including my own digital pics (there is big shopping area called Braodway that I noticed on the bus that is closer to the uni that looks promising) - the UBC campus is out of picture on the left if you continue with a line from the first 2 bridges across the river (ie. not the one in the middle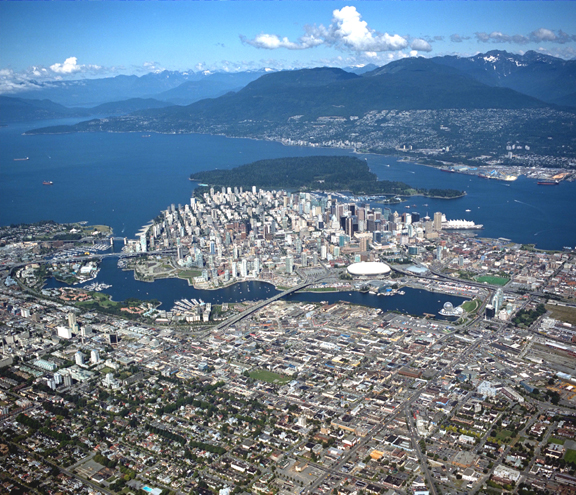 OK - got to get some sleep now. Some shopping first thing tomorrow (after a good early jog I think to help the bodyclock syncing).