Day 21 - Nottingham
Robin Hood country, but a full academic day with no time to explore :(
was up bright and early with a full programme ahead. This part of the trip had been extremely well organised, with Gordon Joyce setting up a really intensive schedule for me. Started off with meeting Prof Roger Murphy, head of the Institute for Research into Learning and Teaching who had been very accommodating when I kind of invited myself to his unit. Then a really good session attended by Prof Pamela Gillies the DVC for e-knowledge and 4 lecturers who graciously gave up 2 hrs of their time to demonstrate some cutting-edge e-learning projects. One was a kind of SimCity for chemical engineers where the project had built a virtual reality chemical plant which the students could interact with in all sorts of creative ways - kind of like playing a computer game but learning sophisticated chemical engineering concepts at the same time - including cost and risk analysis. This is where we begin to see the true potential of multimedia in learning - although it is still early days and I was wondering how the project would be integrated into assesment and lectures etc.
Then onto my seminar which unbeknownst to me had been widely advertised by Gordon, and there were about 50 people gathered in the School of Education for lunch and my seminar (I think it was more the provision of free sandwiches rather than the reputation of the speaker that attracted the crowd:). Anyway it went really well - and here I am in full flow: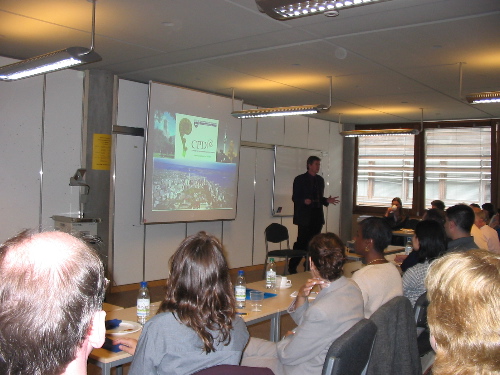 no-one fell asleep and we had good discussion for an hour afterwards (with a few staying on to polish off the remaining sandwiches while asking questions). I have learnt so much on this trip, and also about myself as an 'international' academic who can engage a diverse audience in different countries and at least be entertaining (real E stuff - I feel really drained afterwards but also on that buzz you get from a good session).
More meetings in the afternoon with the team that delivers the Cert programme for new staff (so as well as all the e-learning I have also connected with other academic areas). Got back at about 4.30, had a couple of pints and an early pub supper, and then fell asleep for 3hrs. Woke refreshed and have now updated my blog, and thinking about 3 days of leyline travels ahead. I think I deserve a bit of a holiday!
Just heard the news that our VC John Hood has been appointed Vice-Chancellor of the University of Oxford - the first kiwi to hold such a prestigious post! Can't wait to read the Times tomorrow - will be a real talking point in unis as well....
Posted: Thu - June 19, 2003 at 01:22 AM
Stan's Travel Blog